I love this great idea for kitchen storage.  It doesn't take up much room, but it holds a lot of cans and jars.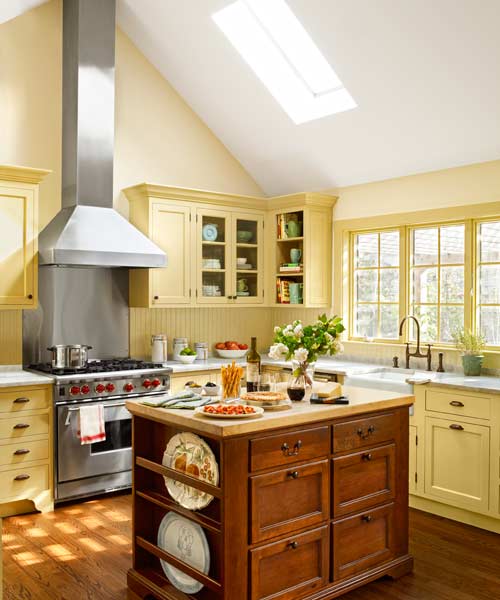 A lot of features that I really like in this kitchen, i.e, the contrast of the pretty wood island with the soft yellow cabinets; little feet on the bottom of the cabinetry; plate rack on the end of the island; the surprise of the industrial-look stove draft; high ceiling; row of windows over the sink; the fittings for the sink; marble countertops; and wood floor.
HOME ADORE (DESIGNER: HOMER OATMAN
An elegant old-world kitchen.  I like the serene feel of the subtle colors, the arches, the chandeliers, and of course the beams.
Isn't this a cozy breakfast nook?  I love built-in banquets, and that chandelier is so pretty.  The unique base on the table and the  interesting style of the chairs add a lot of interest.  And did you see the shelves for extra china storage?  Well all love extra storage.
This designer has an eclectic style that I really like.  The table, attached to the end of the island is so unique.  See the baker's shelves on top of the beautiful island, and that looks like a stainless steel countertop on the island.  I love the edges on that island countertop.  Of course, that range is also a beauty.
Another of her eclectic kitchens.  I love the French baker's table at the end of this island, and isn't that green a pretty color?
Diamond Baratta Design found on Calling It Home
Charm times a thousand!  Love that bay of windows, and the idea of taking the wallpaper across the ceiling. Great island too!
OOOH, that huge blue island; those wonderful lights; those bar stools;  and of course, those beams! Sigh.
I have so much fun just admiring the beauty of wonderful homes.  I love our home, but occasionally, I am able to take a small idea from a huge and wonderful home and incorporate it into our home.  I'm not looking at these luxurious photos and lusting after the homes pictured in them.  I'm just an old lady, who is still looking for her style, and I'm enjoying the views while I look.  I hope you enjoyed some of these views.  Have a great weekend.  laurie
Friday Faves is partying  at Katherine's Corner for Thursday Favorite Things.
IMPORTANT NOTICES:
These are not my images.  If you would like to pin or share these images, please go to the original site (click on the photo), and share from that site.  Thank you.
If there is an objection to my borrowing a photo from a site, please notify me, and I will immediately remove it.  My email addy is on my sidebar.
If one of your images is featured, please feel free to post my "Featured" button (found on my sidebar), and thank you for the inspiration you provide.