You know I usually have an outdoor fave to share.  I might need one of those chair lifts for stairs that they advertise on t.v., but I'd love to have this "tree house" in my back yard.
I could bathe in toile heaven in this bathroom.
I've always loved the fabric on this chair and the way a scene from the fabric is applied to the pillow.  (From Charles Faudree's book, For The Love of Details)
Lately, I've been seeing a lot of wonderful painted furniture projects.  I love the transformation of this night table!  Can you believe how different this piece looks with those pretty legs added?
What a wonderful way to take a dresser from plain to fabulous.
I love her choice of fabrics on this sweet little French chair.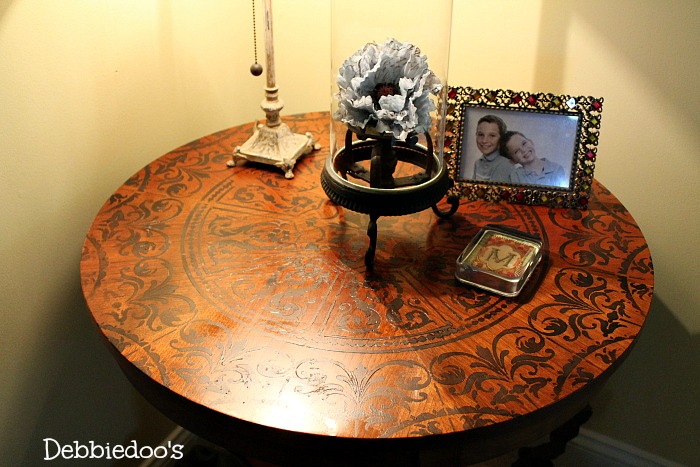 Another transformation (this one with a stencil) that took a table from plain to fabulous.
Were you inspired by any of my inspiration pictures?  There is just so much talent to be found on the internet.  Sometimes, I feel a little overwhelmed by all of the talent, but I still love seeing it.  Hope you have a great weekend.  laurie
IMPORTANT NOTICES:
These are not my images.  If you would like to pin or share these images, please go to the original site (click on the link under each image), and share from that site.  Thank you.
If there is an objection to my borrowing a photo from a site, please notify me, and I will immediately remove it.  My email addy is on my sidebar.
If one of your images is featured, please feel free to post my "Featured" button (found on my sidebar), and thank you for the inspiration you provide.